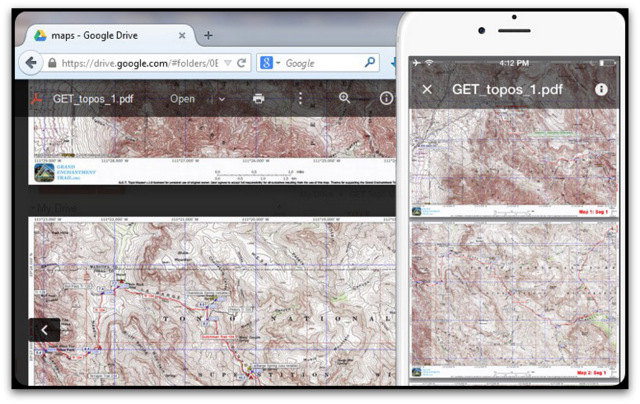 The GET Topo Mapset is now available as an online download via Google Drive. Don't need the mapset on a CD-ROM? Planning to order the CD but also like the convenience of online access anywhere you go? The Drive option may be just what you're looking for. With Drive you can view GET topo maps online as well as download and print individual maps or the entire mapset, any time and any place that's convenient... even on the trail. Best yet, the Google Drive mapset is always up-to-date. Whenever a new version of the mapset becomes available you'll immediately have access to it at no extra cost... forever!
Accessing the topo mapset via Drive is straightforward, and just requires that you have 1) a high-speed internet connection, 2) a PC, Mac, Android or iOS device, and 3) a Google (for example, Gmail) account. (Non-Google users can create a free Drive account here. Your account can be of the "John Doe" variety if you would prefer to remain anonymous to Google.) Then simply include your Google sign-in email address as a Note during order checkout where we can mail you a link to access the mapset.
After purchasing, usually within 24 hours you'll receive an email from us with a link to access the mapset on Google Drive. Click on the link, log in to Google, and you'll be able to view the mapset online as well as download the collection to your computer. (Check your junk/spam folder if you haven't seen the email in your inbox.)
Once you've accessed the mapset via the email link, click on the file named "Start Here" for instructions on viewing and downloading the contents of the mapset.
And yes, the mapset will remain available to you via Google Drive on the web after you've downloaded it; just log in to your Google account anytime, go to Drive, and it'll be there waiting for you. This can be useful if you need to download and print a few maps (or even the entire mapset) from another computer -- say, for example, if you're in a trail town and somehow forgot to include a few maps for your next section of trail. Hey, it happens, and that's why we recommend the Google Drive download option for those who order the CD-ROM version of the mapset as well.
New for 2018 - topo maps available to buy on paper
For your convenience, GET Topo Maps are available already printed and ready for use on the trail! Just choose the Paper Topo Maps option when ordering. The maps are full color, double-sided on 8.5" x 11" letter-sized paper, premium white 24 lb stock, which offers a good balance between strength and weight savings for the trail. We have the maps professionally printed using high quality laser inks that resist smudging and bleeding. The results are sharp and easier to read, providing better value than is typically available when printing at home.
Please note that the Paper Topo Maps purchase option ONLY includes detailed topographic maps for the GET (62 double-sided sheets). It DOES NOT include the additional overview maps, documentation, and GPS data found on the CD-ROM or online download. As such, the printed maps are best purchased along with the CD or download unless you've already purchased one of these previously. We recommend carrying paper maps on the trail, and this is a hassle-free and economical means to that end. Sorry, no returns on the Paper Topo Maps and we only offer it as a complete set, not divided into smaller portions. Expect to retire each map over time as it receives use (wear), same as if you printed your own.