Grand Enchantment Trail Topo Map Set v3.3

All new version 3.3 now available for the 2018 hiking season
Replaces version 3.2 and featuring several important changes to the route layout.
New for 2018 - topo maps available to buy on paper
For your convenience, GET Topo Maps are available already printed and ready for use on the trail! Just choose the Paper Topo Maps option when ordering. The maps are full color, double-sided on 8.5" x 11" letter-sized paper, premium white 24 lb stock, which offers a good balance between strength and weight savings for the trail. We have the maps professionally printed using high quality laser inks that resist smudging and bleeding. The results are sharp and easier to read, providing better value than is typically available when printing at home.
Please note that the Paper Topo Maps purchase option ONLY includes detailed topographic maps for the GET (62 double-sided sheets). It DOES NOT include the additional overview maps, documentation, and GPS data found on the CD-ROM or online download. As such, the printed maps are best purchased along with the CD or download unless you've already purchased one of these previously. We recommend carrying paper maps on the trail, and this is a hassle-free and economical means to that end. Sorry, no returns on the Paper Topo Maps and we only offer it as a complete set, not divided into smaller portions. Expect to retire each map over time as it receives use (wear), same as if you printed your own.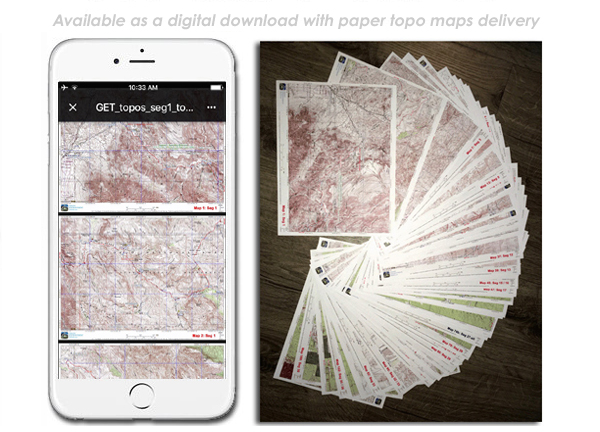 G.E.T. Topo Map Set v3.3 - click to view a full-size sample map from the series (paper maps not included)

The official source for topo maps
of the 770 mile Grand Enchantment Trail.
Richly illustrated by GET founder and long-distance hiker Brett Tucker, this digital mapset contains all of the detailed topographic maps you'll need to navigate the Grand Enchantment Trail. Here you'll find over 100 high-resolution map files featuring USGS 1:24000 base imagery and showing the entire GET route and its terrain, along with mileages, GPS data and much more, all viewable and printable from your computer's desktop, a tablet or smartphone. This mapset also contains a set of custom overview maps with elevation profiles, highlighting the route's location, length, and terrain between each of its resupply points. GPS tracks and waypoints for the entire route are included as well, with waypoint data available both in printable and GPS-ready format.
All maps are PDF files formatted for 8.5" x 11" home printing as well as easy uploading to document printing websites such as FedEx Office.
Version 3.3 features recent changes / improvements to the route layout as well as GPS data and mileages that are field-verified for all segments of the route. This is, bar none, the most accurate and user-friendly mapset yet available for the Grand Enchantment Trail!
121 full-color topographic maps in PDF file format, USGS 7.5' quad detail with tons of GET-specific information added. Includes coordinate grids, scale bar, color-coded route details, mileages, numbered waypoint references, water sources and camping locations, and helpful notes on navigation and conditions
11 USGS 1:500,000 series customized overview maps of the route, with elevation profiles, showing location, terrain, and distances between resupply points
Additional high-resolution area maps, an interpretive full-route elevation profile, 3D-shaded relief map, and surface features map reveal the entire route at a glance
Nearly 1200 waypoints, keyed to the map data and formatted for uploading to a GPS unit, smartphone app, or mapping software.
Detailed GPS tracks of the entire route, organized by trail segment and including alternate routes. All track files are available in both GPX and KML formats for strong compatibility with GPS units, smartphone apps, and mapping software.
User Guide file provides complete instructions for use
System requirements: CD-ROM version requires a CD-ROM or DVD drive, saved contents occupy 446 MB of internal storage space (alternatively, CD-ROM version can also be accessed directly on disc, while Download version can be accessed in the Cloud). Color InkJet or LaserJet printer (or access to a professional document printing service). Adobe Acrobat Reader recommended for viewing and home printing of PDF maps. Optional GPS-interfacing software and cable. PC and Mac compatible. Download version also works on Android and iOS.

BUY THIS ITEM


Shop all products

G.E.T. Topo Map Set created using National Geographic TOPO! software and offered for sale through www.simblissity.net under license from National Geographic Inc. All maps copyright © National Geographic, Inc. www.nationalgeographic.com/topo
Disclaimer: While it is our hope and endeavor that the G.E.T. Topo Map Set will allow experienced hikers to avoid most navigational problems and will contribute to a rewarding adventure along the route, we do not guarantee the 100% accuracy of these maps and waypoints and assume no responsibility for their use or misuse. Hiking and backpacking are inherently risky activities, so be sure to use these maps as part of an overall approach to maintaining safety in the backcountry, and do not assume their endorsement of a particular road, trail, or creek crossing, etc. Conditions in the field can change, sometimes quickly, and property boundaries can be redrawn to exclude public access. In short, use the maps and benefit from them, but use your skills and your awareness too. And always keep your options open when determining the safest and most practical direction of travel.
Copyright © 2018 Simblissity Ultralight Designs
PURCHASE THIS ITEM BELOW

G.E.T. Topo Map Set v3.3
Digital Mapset with printable maps,
GPS waypoints & more



CHOOSE YOUR
DELIVERY METHOD:


---


DOWNLOAD ONLY $30
Receive the mapset via online download. Includes lifetime access to future updates. more info



---


CD-ROM & DOWNLOAD $35
Receive the mapset via online download which includes lifetime access to future updates, plus as a one-time purchase we also ship you the v3.3 mapset on a CD-ROM. more info



---


PAPER TOPO MAPS $36
Does not include a CD-ROM or access to the online download. For $36 we print the topo maps from the v3.3 mapset and ship them to you as a one-time purchase. Paper topo maps make an excellent add-on when buying the digital mapset via download or CD-ROM. more info





CD-ROM AND PRINTED TOPOS SHIP TO U.S. & CANADIAN ADDRESSES ONLY. SEE ORDERING & SHIPPING INFO BELOW. (DOWNLOAD OPTION AVAILABLE TO ALL.)