LiteFOLD B-Line™ Ultralight Bi-fold / Tri-fold Wallet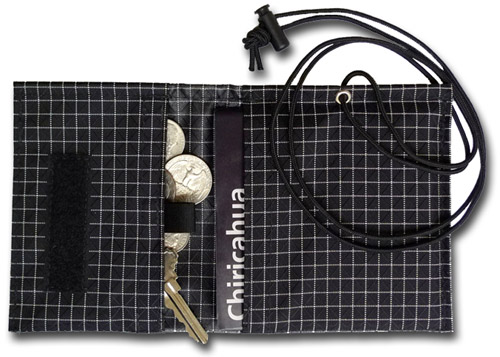 LiteFOLD BL1 Dyneema X® gridstop wallet (shown in black)
An advanced, full-featured wallet for outdoor pursuits that fits comfortably inside your pocket, without restricting your movement like most bulky billfolds...

Experience LiteFOLD B-Line's advantages:
Includes full-size bill compartment and card slots, plus exterior secure storage pockets and removeable neck lanyard, for superior organization and security while on-the-go.

Versatile design lets you store loose change, keys, receipts, pocket knife, mini-light, minor first aid, or 1001 other items for town or trail.
"I am very pleased with the wallet - it is a great piece of kit: very practical, exceptionally light but tough, well made, and a great design." - customer Martyn O., on the LiteFOLD BL1 Dyneema ripstop wallet
"I'm very pleased with it, much more so than the All-ett
™ (brand) I tried but gave up on. The sewing and construction are superior to the All-ett™, and the spectra grid gives the wallet a very professional finish." - customer Bernard C., on the LiteFOLD BL1 Dyneema ripstop wallet

Choose from these fabric & color options: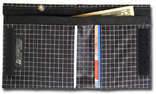 LiteFOLD BL1 features lightweight, super-strong PU-coated 210D Dyneema X ® gridstop nylon/spectra, offering unmatched durability and the feel of a traditional wallet - minus the traditional weight and bulk. Photos don't do this fabric justice - it makes an extremely cool looking wallet that you'll enjoy for years! Dyneema X® gridstop features a reinforcing, diagonal ripstop pattern - in addition to the standard Dyneema grid - that is both eye-catching and totally unique in this application. LiteFOLD BL1 wallets also include a small brass-nickel eyelet along the top edge for attaching a lanyard (included). Lanyard features a mini cordlock for adjusting length around neck. Average weight: 20 grams (0.7 oz)
black

emerald

titanium gray

larkspur

Larkspur fabric is currently available in standard Dyneema grid only (white checkerboard but without additional X pattern)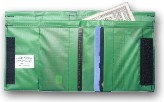 LiteFOLD BL2 features super-ultralight siliconized spinnaker ripstop nylon, making it the lightest and thinnest full-featured wallet available anywhere, yet also surprisingly tough and easy to handle. The fabric comes in a variety of color choices to suit your style, including translucent white. Drawstring loop on this model replaces the BL1's eyelet for attaching a lanyard (included). 100% braided spectra lanyard (no cordlock) rounds out this near-weightless package. Average weight: 8 grams (0.3 oz)
| | | | | |
| --- | --- | --- | --- | --- |
| | | | | |
| indigo | moss | white | fuchsia | black |
Besides the differences listed above, the BL1 and BL2 models are identical.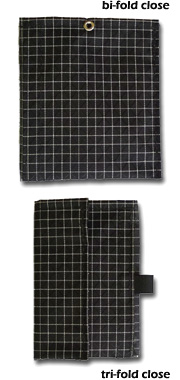 Convertible bi-fold / tri-fold construction
Uniquely designed Velcro closures, along the side edges of the wallet, and vertical "hinge points" allow the LiteFOLD B-Line™ to snap securely closed in a bi-fold style. The result is an incredibly thin and bulkless wallet that slips almost invisibly into a pocket.
The ingenious vertical hinge points and Velcro arrangement also permit the B-Line to function just as capably as a tri-fold wallet, for those times when a smaller wallet shape is preferred.
Converting from bi-fold to tri-fold mode is as easy as switching hands. With the wallet open, a quick flick of the left hand folds the left half of the wallet at its hinge point, toward the right, to create a Velcro-secured, bi-fold close. Or, with a flick of your right hand, the right half of the wallet folds left at its off-set hinge point; then fold the left side of the wallet over the right, to create a Velcro-secured, tri-fold close. No other wallet offers this kind of versatility!

Bi-fold mode offers an incredibly slim and bulkless wallet that measures 4.5 in. tall by 4 in. wide.

Tri-fold mode offers a smaller closed size of approximately 3 inches wide.


BUY THIS ITEM


Shop all wallet models

Copyright © 2013 Simblissity Ultralight Designs