UnSlack Pack™ front-mounted carry system
Put your Backpack's Shoulder Straps
to WORK FOR YOU!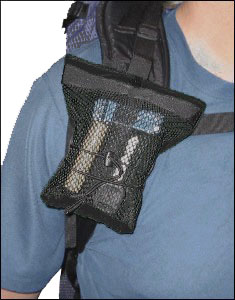 An ultralight front-pack that attaches to your backpack's shoulder strap or hipbelt, holding a camera, GPS, maps, snacks, lip balm, or other essentials away from the body yet close at hand.
Top-loading main compartment and separate front mesh pocket keep you organized. Fast, secure mounting system keeps both UnSlack Pack™ and its contents motion-free.

Total product weight: 1 ounce (29 grams)
Made in USA of US textiles
Slackpack (v.): to travel on foot, such as on occasion during a long trail hike, without carrying the full weight of a loaded multi-day backpack. Usage: Caveman slackpacks while wearing a daypack outfitted with an UnSlack Pack.
UnSlack Pack was designed to solve the problem of how to carry a lightweight camera conveniently and securely during outdoor pursuits like backpacking, climbing, or skiing. Stored in the backpack itself, a camera is out of reach, and traditional methods of front-mounting are often inadequate: torso or fanny packs can be uncomfortable to wear, and aftermarket hipbelt cases can bounce around, even though they may be designed to fit the camera itself like a glove. Further, hipbelt cases require the use of the hipbelt, which may not always be desirable or available.
The solution was a product that would attach instead to a backpack's shoulder strap, holding the camera close at hand yet off the body, and without compromising the wearer's comfort or restricting movement. It needed to stay put, without wobbling around or slipping down the shoulder strap. And the product had to retain its contents, and to hold them motionless during vigorous activities like running, downhill trekking, or stream fording. Even better if it could weigh only about an ounce!
We're pleased to report that such a product is now available as the UnSlack Pack, and after several thousand miles of wear-testing on the long trails we can say confidently that the product does what it should and does it well. UnSlack Pack will hold a camera at-the-ready, yet you won't even sense it's there. It will hold most sizes of lightweight, compact cameras, all securely and motion-free. And it is sized to hold other handy items as well, including small electronics like a GPS or iPOD, a map or trail guide, and more. And the front mesh pocket is perfect for an energy bar, lip balm or compact headlamp.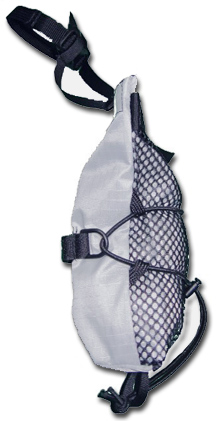 Dual compartment design
35 cubic inch top-loading main compartment securely holds cameras, etc. of all shapes and sizes up to 5" by 3" by 2.8". (Or flat objects up to 6" by 5".) More info

Snap & Velcro-secured main compartment (a Simblissity innovation) can simultaneously hold an Olympus Stylus camera and Garmin eTrex GPS, with some room to spare. New gentle-touch Velcro is easy on your valuables.

15 c.i. Velcro-secured, gusseted mesh pocket expands to store such items as snacks, lip balm, map, keys, memory cards, or a LiteFOLD wallet. Holds more the less the main compartment is loaded - even sunglasses or a headlamp.

Both compartments open quickly for ready access, yet hold onto their contents - even when items extend beyond the top opening, such as with a large folded map or trail data book.
Fast, secure mounting system
Velcro, elastic cord & cordlock compression - wraps around the full circumference of a shoulder strap, keeping both UnSlack Pack and its contents stable and motion-free.

Innovative "sliding loop" top mount can be raised or lowered on the shoulder strap for a perfect fit. Cinch-able webbing loop with side-release buckle offers slip-free attachment to your backpack's load lifters, around the shoulder strap itself, through daisy-chain style webbing, a D-ring, or elsewhere.

Bottom webbing loop - serves as a keeper for the elastic cord, and as an optional utility loop.
Fast installation and removal lets you move UnSlack Pack easily from one backpack to another without having to undo the shoulder straps.

Alternative mounting options - If preferred, UnSlack Pack can be worn instead on a hipbelt, positioned horizontally rather than vertically. UnSlack Pack also makes a great, full-featured stowbag for carrying inside the backpack itself. Or, attach a cord to its pull loop and wear it around the neck, beneath a shirt, for securely carrying small essentials like a LiteFOLD wallet, keys, or a passport.
Ultralight and durable construction
Rugged 70 denier silicone-coated ripstop nylon keeps UnSlack Pack strong yet lightweight, and low-friction for easy removal and insertion of items. This is not your typical "ultralight tarp sil-nylon," which is 30 denier material.

Water-resistant construction provides safe haven from the elements without overbuilding the product's design, weight, and cost. UnSlack Pack's main compartment is conveniently sized to accept a 4"x6" Cushion Pouch, or pint or quart-size zip-lock bag, for use as a liner in soaking rain. Durable, wet-weather protection thus meets that of waterproof camera cases costing considerably more.


Fitting Info
One convenient size fits most compact cameras. Please verify that your camera will fit before ordering. (See UnSlack Pack dimensions above.)
Maximum recommended carry weight: 2 lbs. Items taller than 6 inches such as maps and guides will extend beyond the top opening of UnSlack Pack's main compartment.

TIP: If wearing 2 UnSlack Packs - one on each shoulder strap - place heavier items inside the UnSlack Pack to be worn on the shoulder strap you put on first. Place lighter items inside the other UnSlack Pack in order to keep this shoulder strap from twisting out of reach when putting on your backpack.
"I have had several opportunities to use my Unslack pack. It is a truly innovative product. It has made an already good backpack even better. I simply don't want to go anywhere without it! I definitely will recommend it to all my backpacking, hiking, skiing, and fishing friends." - P. Combee, West Virginia


"Went for a quick overnight hike in the Shenandoahs to try out the UnSlack Pack and it worked PERFECTLY! It's like you say on your website - you won't notice it's there, but when you need something - it's there!" - H.A., Alexandria VA

Read what BackpackGearTest.org gear testers have to say about the Simblissity UnSlack Pack.


Copyright © 2015 Simblissity Ultralight Designs