LiteFOLD T-Line™ Ultralight Tri-fold Wallet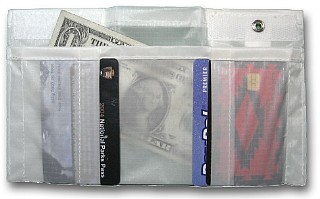 LiteFOLD TL2 ultralight wallet (shown in translucent white)
An advanced, full-featured wallet for outdoor pursuits that fits comfortably inside your pocket, without restricting your movement like most bulky billfolds...

Experience LiteFOLD T-Line's advantages:
Ultralight, zero-bulk, water-resistant 2-way tri-fold construction. So light and thin you'll hardly notice it in your pocket. Practically invisible to others.

Includes full-size bill compartment and card slots, plus exterior storage pockets and removeable neck lanyard, for superior organization and security while on-the-go.

Versatile design even lets you store loose change, keys, receipts, pocket knife, mini-light, minor first aid, or 1001 other items for town or trail.
Product weight: 8 - 19 grams (0.3 - 0.7 oz) based upon fabric type (see below)
Dimensions: 4.75 in. tall by 2.7 in. wide (opens to 8.4" wide) by 0.07" average thickness
Features
>>Compare this product to other LiteFOLD wallet models
"Love your wallets! I'll never go back to using a ziplock ever again!" - Robert E., Bedford VA, long-distance hiker

Choose from these fabric & color options: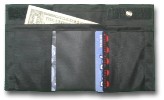 LiteFOLD TL1 features ultralight PU-coated 160D cordura nylon, offering superlative durability and the look & feel of a traditional wallet - minus the traditional weight and bulk. Available in black. Great looks, great functionality. Product weight: 19 grams (0.7 oz)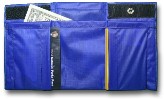 LiteFOLD TL2 features super-ultralight siliconized spinnaker ripstop nylon, making it the lightest and thinnest full-featured wallet available anywhere, yet also surprisingly tough and easy to handle. The fabric comes in a variety of color choices to suit your style, including translucent white. Average weight: 8 grams (0.3 oz)
| | | | | |
| --- | --- | --- | --- | --- |
| | | | | |
| indigo | moss | white | fuchsia | black |
Besides the differences in fabric, the TL1 and TL2 models are identical.
Versatile tri-fold construction
Uniquely designed Velcro closures, along the top edge of the wallet, allow LiteFOLD T-Line™ to tri-fold in either of 2 configurations, allowing you to decide which face goes up, which goes down, and which is in the middle. The Velcro closures keep the wallet securely closed in either configuration.

Tri-fold offers the smallest possible full-function wallet: 4.75 in. tall by 2.7 in. wide (Barely wider than a standard credit card!)



BUY THIS ITEM


Shop all wallet models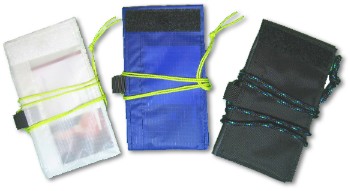 Copyright © 2013 Simblissity Ultralight Designs